I have known Jen's blog and WIAW for a while and really enjoy them but I did not make any entry on my Wednesday as well as my eats. First of all, I need to thank Jen for creating such an amazing blog and topic that people who loves (good) food and making them can share their fabulous ideas and learn from each other. And I join WIAW from now on.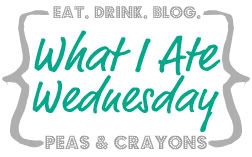 I do not have class on Wednesday so I spend most of my time making food along with handling my homework (I am doing 1 year exchange program in Japan, my time is almost ran out though). Yesterday I made pancakes for breakfast as I did not have them for a long time. Those pancakes were made from oats and flour, pure cocoa, yogurt and a teaspoon coconut milk. I also ate them with kiwi and Vietnamese coffee that I need every day (I'm Vietnamese so it's easily understood).

I topped them with honey and PB later
For lunch I had tacos with shrimps, scrambled tofu, cucumbers and red peppers and kimchi cabbage soup that I went to the second bowl. Basically, I was clearing up my fridge so I ended up eating leftover food I had.
Shrimp and scrambled tofu Tacos
Tacos and cabbage soup
For afternoon snack, I ate a banana and a bit non fat yogurt which were also my pre workout snack.
My workout fuel
Then, 80 minute workout was followed by a dinner which was beef potato soup and breads and leftover cabbage soup from lunch. I tried to make this meal with my mom's recipe but I always failed without any reasons. Sad face now :(.
Dinner
I always feel hungry every 3 hours so around 9pm, I snacked with some almonds and dried figs and a glass of honey lemon detox which is highly recommended by my mom. My food might not be appealing but I'm happy to spread my eats on WIAW. Hope you guys enjoy them. And what did you eat on Wednesday?
Oopps, one more thing I almost forgot which is I got a birthday card sent by my bestie in Vietnam. The first gift for my 22nd birthday which comes on July 31st. I'm so stocked. No boundary for friendship! Thanks and love her much much much! We will see each other soon and I can have a belated birthday party with her.
The 22nd birthday is coming!